I was watching Bill Bailey last week, and came across this bit where he basically steals my job here and talks about paintings of Doubting Thomas.

This is a popular vignette taken from the Gospel of John, where Jesus returns from the grave and all the disciples seem him but Thomas.

So they tell him, "Hey Tom, Jesus totally came back from the dead," and he's all like, "Yeah whatever guys, I'll believe it when I literally stick my hand in his still-gaping wounds," and then Jesus appears again and goes "You asked for it," and wound-poking commences.
This week I'll do a quick review of a Thomas Poking Jesus painting, and let you watch the video for a broader overview of the genre (with Greek subtitles, for all my Greek readers...although in this case Koine might have been

more appropriate)

.

This particular one is by 17th century Dutch painter Hendrick ter Brugghen.
First, here is Jesus forcing Thomas' finger into the wound in his side.

Early diagnostic imaging at its best!
This is fairly unpleasant business.

Understandably, some of the audience is looking away, presumably at some passing birds, or maybe some happy butterflies.
However, one person is looking on with interest.
This creepy old man is going, "Hmm, penetration of gaping flesh wounds…how fascinating.

Now, just a little to the left…"
For me, perhaps the creepiest part of this image is Jesus himself, pushing someone else's finger into his ribcage, slightly lumpy face balanced between patience and i

rritation

.
I saw this and thought, "Oh no!

Mentally unbalanced Smeagol is about to strangle that man!"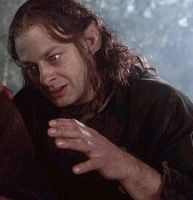 You

t

ouc

hed

the

Precious...body of Ch

rist...
That would be one wa

y to ensure Thomas doubted no more.